15 April 2017 | News
3rd Annual EuroCHRIE University Challenge Comes to a Terrific Conclusion!
2017 PREVIEW: EuroCHRIE University Challenge 2017 has begun!
The 3rd Annual EuroCHRIE University Challenge, which began in late February, came to an exciting finish on March 31st. We were delighted to welcome teams from three schools who participated last year: The Budapest Business School (Hungary), The University of South Carolina (USA), and Stenden University (South Africa) and teams from three new schools: Stenden University (The Netherlands), The University of Houston (USA), and The Dublin Institute of Technology (Ireland).
The teams, comprised of four senior students and one instructor, competed in the Simulation Challenge in a competitive set of six (with one hotel operated by each school). Each week they made strategic decisions to improve the position of their hotels in the competitive set, with a focus on Market Share, Financials, Guest Satisfaction, and Associate Engagement. The winning team was the hotel with the best overall balanced scorecard at the end of the four-week competition.
While in the competition, the students also completed their certification in Hotel Business Acumen via on-line learning modules, supplemented by weekly web conferences.
This was a very dynamic competition with each team using slightly different strategies to move their hotel forward in the competitive set. In the end, it was the team from The Budapest Business School who were declared the winners while the second position went to Stenden University (South Africa).
Sincere congratulations to all involved! REDGlobal will be delighted to honor the top two teams at EuroCHRIE 2017 in Nairobi.
---
What the teams gained from the competition...
---

Hotel Paprika, The Hungarian Team
★★ WINNERS ★★
Photo: (in no order) Krisztina Menyhárt, Barbara Kovács, Réka Hajdú, Márton Szegezdi & Instructor: Klára Karakasné Morvay
"It is too hard to say anything simple about the competition, because it is too complex for just say 'nice' and thats all. During this six weeks. we have gained both professional and personal development.
We got an insight how a real hotel management team works and how the decisions are made. Our analitical ability has improved considerably, just like the skill to work in group. We learned how to express our opinions and how to persuade the others about it, how to consider new ideas and how to give honest feedback without hurting each other. We also got a huge advantage in our professional life since we are studying hotel management and planning to work in the same area later on. With this certificate, experience and knowledge we can have a greater chance at working in a responsible position in one of the desired hotels of ours. We realized that using our theoritical knowledge in practice is the greatest thing that ever happened to us during our university carreer. We could be greatful for the international competitors and also for our teacher, because she was there if needed.
All of us are very thankful for the possibility of being a participant in this wonderful challenge!"
---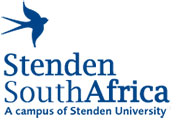 Stenden South Africa
★★ SECOND PLACE ★★
Photo: (in no order) Tavimbanashe Zisengwe, Shannon Stap, Natasha Calvert, Siviwe de Beer & Instructor: Clare du Plessis
"The EuroCHRIE Challenge 2017 was a wonderful experience for us at Stenden South Africa. As a team we were very excited to hear that we would be taking part in the competition this year, it was an honour.
The Challenge taught all of us many lessons that will be valuable for the rest of our career in the hospitality industry. We learned that time management and the timely making of decisions is a very important part of running a hotel, or any establishment for that matter. We also found that doing the course in hotel business acumen was very valuable to us, for the game as well as in the long run.
As a team we learned a great deal about each other as individuals, as well as how differently people can think about one situation. In the beginning we were in very unknown waters, having never played the game and having to get used to working as a team. However, all this provided us with a wonderful learning opportunity for which we are very grateful."
---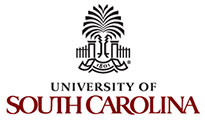 University of South Carolina
Photo: (in no order) Shuai Xu, Antonia Fay, Yuxi Chen, Jizhen Ma & Instructor: Marketa Kubickova
"We were very excited acting as managers to operate "Palmetto Hotel and Resort" in EuroCHRIE Challenge by RedGLOBAL. The simulation provides us a platform to utilize academic knowledge in a practical way. We tried our best to apply what we learned from revenue management to forecast demand and expenses as accurately as possible throughout the short 4 weeks. Although the result didn't turn out as our expectation, we believe if the simulation continues we could catch up and grab the first place eventually. All in all we found this competition very exciting and we learned many valuable lesson. We are very grateful that we were able to participate in the EuroCHRIE Challenge with these 5 other amazing schools and we definitely recommend it to other schools in the future."
---
Stenden University Netherlands
Photo: (in no order) Lloyd H. B. Tan, Michael W. Kerr, Vlad Stefan Dochia, Jochem Bierema & Instructor: Joke Tasma
First of all we would like to thank EuroCHRIE, REDGlobal and our school Stenden Hotel Management for engaging in this event as well as for extending an invitation for this career fulfilling experience. We enjoyed very much the practical experience in an international setting.
The EuroCHRIE challenge was a great learning experience because:
Vlad: "During the few weeks that we played the simulation game I gained a lot of new knowledge in different segments such as revenue management, financial but as well different KPI's which are really important in the industry. The team work had a nice outcome after all the discussions and different opinions that we shared. Competitions like this makes my university life more interesting."
Michael: "My experience with this event has been truly amazing; I had the opportunity to work with three other colleagues all with a unique style of thinking and talent. I was extremely grateful for the experience as this is very much in line with my career ambitions for a career in Revenue Management. This not only gave me the practical insight base on the simulation but also the classes and the HBA certificate is surely a trophy worth having on CV to boost job marketability in RM."
Jochem: "By playing the simulation game and the online E-courses I learned a lot more about the different revenue techniques, with the help of understanding the financial statements, the different communication approaches and the pricing strategies. Overall it was just a really nice simulation game to play, easy to understand and a great experience for my future."
Lloyd: "From the start on the challenge was exciting. From creating a team up until the last outcome of the simulation. A very diverse team, this was. From outspoken people to more introvert people, hands on mind sets to analytical thinking. One of the challenges was to get in one line. This we did manage, however, not always easily. Even though this wasn't easy, it did bring up many strategies and ways of looking at the challenge. This resulted in a balanced way of decision making."
---

University of Houston
Photo: (in no order) Macey Keller, Hayley Landry, Jennifer Trussell, Tien Au Phan & Instructor: Elizabeth Whalen
"We really appreciated the opportunity to be part of the 2017 EuroCHRIE competition. We had a great experience learning through the simulation and web conferences. Through the EuroCHRIE competition, we learned about planning and adjusting to real life situations, and how to see the big picture of how decisions can affect a hotel. We worked with a timeline and a budget to accomplish our goals. We also learned about teamwork, and how to make managerial decisions as a team. Overall, we learned a lot of valuable information about revenue management, and enjoyed the competition immensely."
---

Dublin Institute of Technology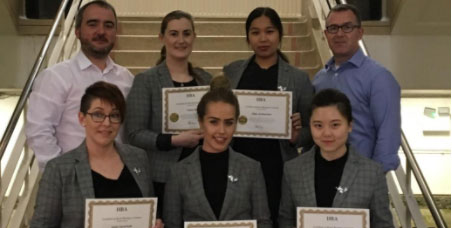 Photo: (in no order) Nadia Verschoyle, Yvonne Fay, Aoife Fahy, Owee Srakhunthod, Catherine Cha Ai Cheng & Instructor: John Ryan
"We really enjoyed taking part in the EuroCHRIE Challenge 2017. It was an incredible opportunity to learn and develop existing skills and knowledge by putting these to use on the simulation challenges. We found ourselves understanding modules from college, such as the business and accounting aspects as they felt real compared to class experiences. From learning how putting money into training achieved longer benefits in terms of service, to trying to obtain a good market share while maintaining costs, and finally ending with an exam to test our knowledge showed in the end that the competition was worth the effort and in return valuable knowledge for the future was gained. Competing against other International colleges was also exciting as it felt like we were competing with International hotels.
We would recommend the EuroCHRIE challenge to other business or hospitality students as we felt the business acumen we gained will be very beneficial and informative for 'real-world industry'."
---
Heidi Anaya
Director of Education - REDGlobal Group
heidi@redglobalgroup.com
2016 REPORT: 2nd Annual EuroCHRIE University Challenge Comes to a Spectacular Finish!