EuroCHRIE Awards
---

The EuroCHRIE President's Award
The EuroCHRIE Presidents Award is the highest individual recognition a member of EuroCHRIE may receive. It is presented to a EuroCHRIE member in recognition of the individual's lifetime contributions and outstanding service both to hospitality and tourism education and the EuroCHRIE Federation.
This year is awarded to:


Dr William H. Samenfink
---

STR Global "Bridging the Gap" Award
- in recognition of significant contributions related to bridging the gap between academia and industry
This award honours a professional who has worked to build closer cooperation between academia and industry in relation to training, research and development in hospitality and tourism education. The recipient will normally be a EuroCHRIE member
This year is awarded to:


Heidi Anaya
---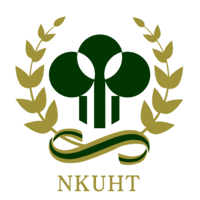 The NKUHT Excellence in Education and Training Award
The Award recognises and honours an educator or trainer for outstanding achievement in contributing innovative ideas, methods or programs that have advanced teaching, learning or practice in the field of hospitality, tourism and events education or training. Award recipient must demonstrate exceptional professional ability and commitment through service to the industry or education.
This year is awarded to:


Ing. Geoff Maree
---

The EuroCHRIE Best Poster Award
The award is given to a superior research poster presented at the EuroCHRIE 2018 conference.
Winner:
Top of Denmark: exploring the destination brand identity
Anna Hammershoy, University College of Northern Denmark
Highly commended:
The hotel of the future has been open
Klára Karakas Morvay, Budapest Business University
Cultural adaptation. The main driver for labour market success of international students in the hospitality industry?
Malte Martensen, Hannah Nagier, Jan Pieper, Florian Hummel, IUBH Univerity of Applied Sciences, Berlin
---

The 2018 EuroCHRIE University Challenge Award
- sponsored by RedGlobal
The award goes to the winner of the 2018 EuroCHRIE University Challenge, an international lodging competition run by RedGlobal
The winning team were:


Strathmore University – Nairobi
And the runners up were:


Budapest Business School
---
Institut Paul Bocuse Research Award
The award will commend an individual piece of research, submitted to the 2018 EuroCHRIE conference, that has made a significant contribution to our industry and to education.
The winners were:
Doing Better by Doing Good: How CSR Practices Help in Engaging Employees
by Xander Lub, Henri Kuokkanen, Rob Blomme, Brenda Groen and Frans Melissen
The nominees were:
Managing hotel room demand during crises: The case of developing economies
by Marketa Kubickova, Hengyun Li and Destan Kirimhan - University of South Carolina
Impact of Ingredient Branding on Hotel Brand Equity: The Power of Branded Amenities
by Eun Joo Kim, Seyhmus Baloglu and Tony L. Henthorne - University of Nevada, Las Vegas
---

Best PhD Student Paper Award 2018
Emerald Publishing and the Dublin Institute of Technology are together sponsoring the 2018 Best PhD Student Paper Award. This award is given to a superior research paper submitted by a PhD student.
The winners were:
The Role of Emerging Tourism Networks and Rural Cluster Development: A Wild Atlantic Way Perspective
by Kelly O'Sullivan Browne, Sophie Price and Fiona Tobin
Institute of Technology Tralee, Margaret Linehan​, Cork Institute of Technology
The nominees were:
Technology Disruption and Shifting Perceptions: A Dynamic Change Perspective on how Employees Make Sense of Technology-driven Organizational Change in Dutch Tourism Industry
by Annemiek H.T. van der Schaft, Xander Lub, Omar Solinger and Beatrice van der Heijden
NHTV University of Applied Science, Vrije Universiteit Amsterdam & Radboud University
Virtual Reality Presence as a Preamble Experience: The Role of Mental Imagery
by Vanja Bogicevic, Soobin Seo, Jay Kandampully, Stephanie Q. Liu and Nancy A. Rudd
Ohio State University & Washington State University
---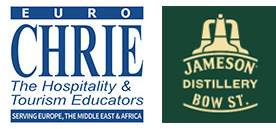 The EuroCHRIE Regional Industry Award
The award recognizes an outstanding regional organisation for demonstrated commitment and service to the hospitality and tourism industry.
This year is awarded to:


Jameson Distillery Bow St